Application for g-RIPS-Sendai-2023 has been closed.
Overview
The Research in Industrial Projects for Students (RIPS) program has been held at the Institute for Pure & Applied Mathematics (IPAM) of the University of California, Los Angeles. In 2018, the Advanced Institute for Materials Research (AIMR) at Tohoku University in Sendai launched the g-RIPS-Sendai program in collaboration with IPAM, targeting graduate-level students in mathematical science and related disciplines. This year, g-RIPS-Sendai 2023 will be held as follows.
June 19 (Mon) - August 8 (Tue), 2023
Deadline: April 14, 2023
Participants from the U.S. and Japan will work on cross-cultural teams on research projects designed by industrial partners. The projects are expected to be of great interest to the partners and offer stimulating challenges to students. Most projects will involve both mathematical and computational work. More information related to programs offered by IPAM can be found at Student Research Programs, Past Student Research Programs, and Video.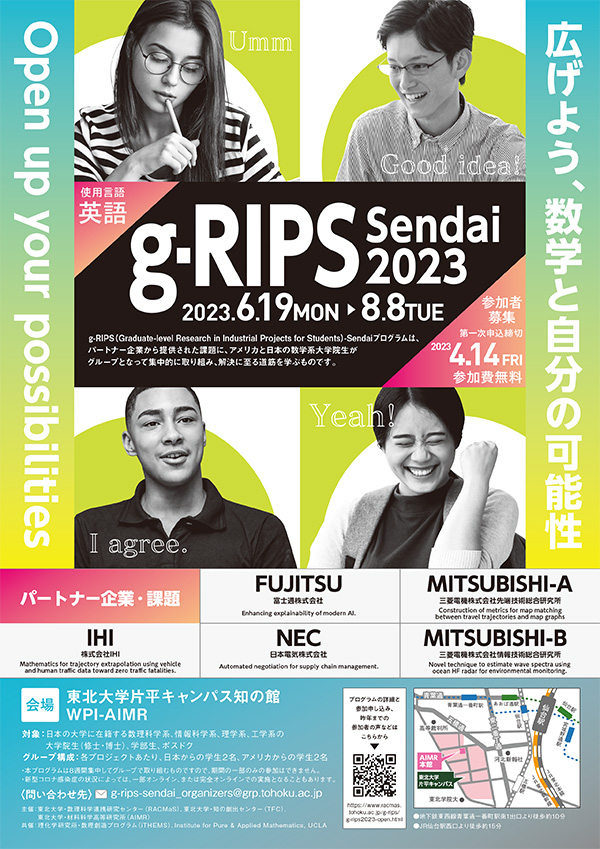 COVID-19 Related Notices
Information for COVID-19 at AIMR can be found here.
Projects
The industrial partners for g-RIPS-Sendai 2023 include the following:
Each project team has four cross-cultural members: two from the U.S. and two from Japan.
Academic and industrial mentors will take care of each project team.
Past g-RIPS Program
g-RIPS-Sendai 2022 was held from June 20 through August 9, 2022; 16 participants worked on four projects.
For more information, please visit here.
Apply
Application for g-RIPS-Sendai-2023 has been closed.